Building my Jodel D18
Having researched a lot of different airplanes and spoken to people who have built the planes, I finally decided to build a Jodel D18.
The Jodels are built almost entirely from wood and are reported to be relatively easy and cheap to build. All Jodel pilots I have spoken with, praise the pleasant flight characteristics of the plane. On top of this comes factors like the good range and moderate engine needs of the D18.
I intend to build the plane with wing tanks designed by Frank Rogers in Australia, which will add 40 l to the fuel capacity, boosting the range to over 1200 km. Not bad for a homebuilt.
Lowering the stall speed is always tempting, so I am considering the newly developed 15 % flaps. I will have to get a positive statement about the alteration from Delemontez before the DK authorities will allow me to build with the new flaps, but others are working on that.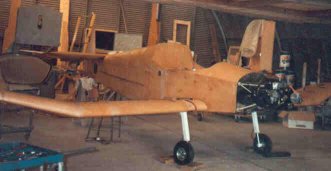 I plan on using the Jabiru 2200 80 HP engine - quite possibly modified with a Swiss-type muffler (article 1, article 2), as I want the plane to be as quiet as possible.
Unfortunately, getting permission to build an aircraft is not exactly easy here in Danmark - especially a wooden plane. One of the major obstacles so far has been the fact that I was required to take a builders course before I started building - and the required wood-building course was cancelled for three consecutive years. Well , that is water under the bridge now. Patentiam gratia est, they say, but at times it has been hard to keep up the enthusiasm. The project journal (required), has been ordered. Perhaps the plans will follow soon ?
Jodel D18 statistics:
Weight & dimensions:
Empty weight
255
kg
Gross weight
460
kg
Fuel capacity
65
l
do. with wing tanks
105
l
Length
5.70
m
Wing span
7.50
m
Wing area
10
m²
Wing loading
46
kg/m²
Performance:
Top speed
248
km/h
Cruise speed
175
km/h
Range w/o wing tanks
840
km
do., with wing tanks
1200
km
Stall speed
72
km/h
-
= 40
kts
Rate of climb
3.5
m/s
Takeoff run
250
m
Landing run
443
m
Service ceiling
m
Engine:
Engine used
58
HP
Engine range
58-??
HP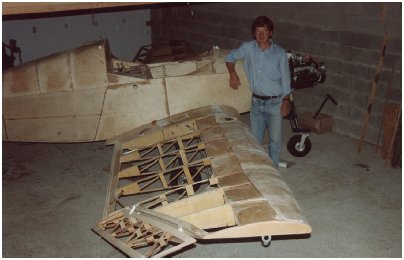 D19 under construction (not mine)
--oOo--
Join the Jodel mailing list! Enter your email address below, then click the 'Join' button:
--oOo--
If you have any comments, please contact

ping@piteraq.dk

Updated 01-11-16 at 18:31