UL in the works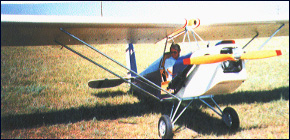 While I prepare for the plane I really want, I might as well build something else, so I've bought plans for a Ragwing design, a RW6 "Parasol" single-seater - also known as the "Rag-a-Mufin".
There are a few points I'd like to press home: There are NO stress calculations available for this construction and the plans are lousy with several inclarities and omissions. But, the plane is very easy and cheap to build and there is excellent support available from other builders on the RagWing mailing list.
As the RW6 is constructed of wood and fabric, I should be able to keep the investment minimal and spread it out, except for the engine, where I am considering using the 40 HP Hirth 2702. The second largest investment will be the covering, where I intend to use the Stits' Poly-fiber process for reasons of safety (it won't burn) and longevity.
RW6 "Parasol" statistics
Top speed
144
km/h
Cruise speed
104
km/h
Range
320
km
Stall speed
40
km/h
Rate of climb
4
m/s
Takeoff run
30
m
Landing run
45
m
Service ceiling
3,000
m
Engine used
2si/38
HP
Engine range
20-52
HP
Fuel capacity
22.7
l
Empty weight
110
kg
Gross weight
250
kg
Height
1.83
m
Length
5.03
m
Wing span
7.77
m
Wing area
10.87
m²
Wing loading
23
kg/m²
The plane classifies as an ultra light, even within the Danish regulations, which should cut the red tape about construction to a minimum. If I build this plane, supervision of the project will be handled by DULFU (Dansk UltraLet Flyver Union) and the plane would be required to go through a static load test - the latter beeing the reason I'm contemplating an uncalculated design.
If you are interested in any of the RagWing designs, I suggest you join the RagWing builders email list. Send a mail to ragwing-request@gurr.org and put "subscribe ragwing" as the body of your message.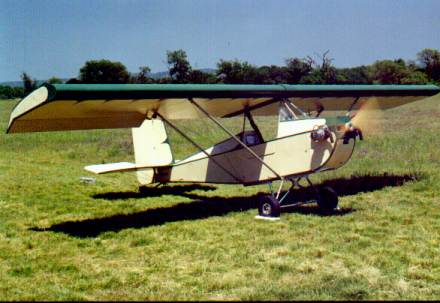 John Weikels RW6
Another RW6 builder, is Charles Lewis. Here are some pictures of his plane.
--oOo--
Cost of project

| | | |
| --- | --- | --- |
| Date | Activity/Item | cost, DKK |
| 9810?? | Membership, KZ&V | 307 |
| 9810?? | RW6 plans & video | 515 |
| 990122-24 | Seminar on fabric covering | 832 |
| 990122-24 | Transport, do. 618 km á 2.38 | 1471 |
| 990122-24 | Food, do | 275 |
| | | |
| | | |
--oOo--
--oOo--
If you have any comments, please contact

ping@piteraq.dk

Updated 01-11-02 at 22:06