Scuba-diving and Submersibles
I have always been fascinated by the world under the sea, so it is only natural that I'm a CMAS certified


scuba-diver. Unfortunately it's one of those hobbies I rarely have time to pursue - not to mention the fact that I've outgrown my wetsuit horizontally ;-(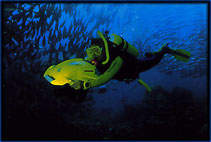 A long-time dream of mine, is building a small submarine. I have played with several different concepts and spent many pleasant evenings making up plans. Through time, I have heard of several homebuilt subs, but have so far been unable to dig up much relevant information. Naturally I have I have discovered some interesting pages on the subject:
PSUBS, is well worth a visit and has as a declared goal to promote and encourage the discussion, designing, building, certifying, owning and usage of personal submarines.
The page Diving - Submersibles, among other places, lead me to Omniscience Futureneering, also known as Skunk Works, a bunch of guys who did in fact build their own submersible out of a propane tank.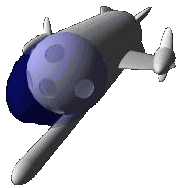 Out of a sketch I drew up, with a few other ideas thrown in, grew the rendering to the right. I have since added a conn tower to the sketch. The idea is to let the sub's crew of two take turns at lying down and looking out the viewports in front, or sit and look out of the viewports in the conn. Propulsion (and most of the steering) is handled by the two rotatable trolling motors mounted on small fins forward of the center of gravity - possibly augmented by a third motor driving a traditional aft-mounted propeller. The torpedo-like attachment (I had concepted two) is actually a drop-weight, which was meant to double as a 'landing'-gear when resting on the bottom, but it was reduced it to one for 'artistic reasons'. The odd-looking front (bow) may confuse some people, but the concept is simply that since thick acrylic domes are rather expensive, you place multiple viewports on a normal cylinder cap and streamline the construction with a thin acrylic shroud kept at ambient pressure.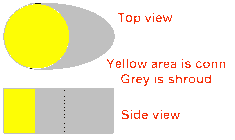 The conn probably should have its own streamlining shroud. The extra space behind the proper conn, could be used to stow gear, like a small buoy and extra oxygen tanks. I imagine the conn to have an extendible railing that can be raised to keep out the waves when the sub is surfaced.

In order to promote exchange of information on the subject, I founded the Homebuilt Submersibles Webring - a ring of linked sites with a shared interest in the subject:
---
Diving is fun, but if you've never been diving before, you should NOT just strap on some equipment and jump in the water.
There are several organizations who can give you professional training. Some of these are listed below.
---

Undersea Technologies has developed the UT240 (broken), an advanced rebreather, which is also used by NASA for training astronauts. A real neat piece of equipment that I'd love to get my hands on. As it is, I think I'll stick to my 15 l bottle until the UT240 is somewhat cheaper.
For general diving information, try Scuba links, DiveWeb Marine Links Or

ScubaDuba
---